To investigate blue crab movements in the Gulf of Mexico, we are tagging and releasing blue crabs throughout the bays, estuaries, and offshore waters of the Gulf. Our tags are orange 1″ x 2″ plastic rectangles wired around the crab's spines. This tagging project will allow us to track the movements of spawning females and better understand the biology and movements of this valuable species. You can contribute to the success of this project by clicking below to report any tagged crabs you catch. There is a $5-50 reward for each reported tag.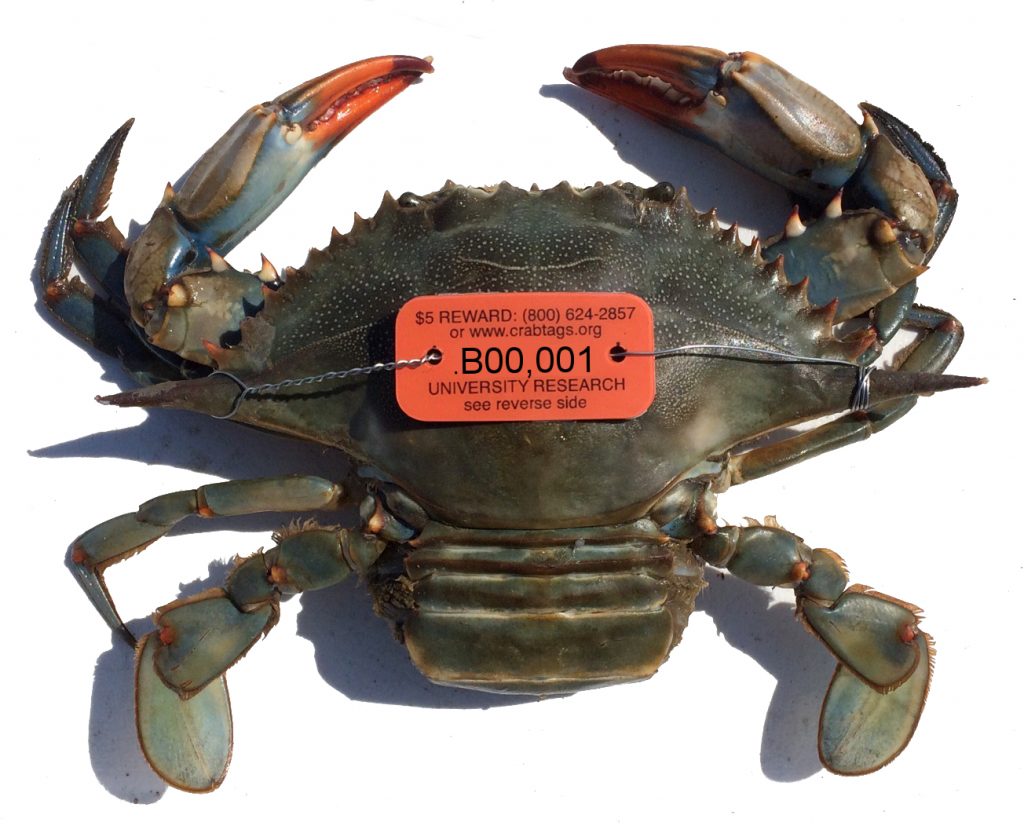 ---
Recent Updates:
June 1, 2021: Tagging operations resumed in April 2021. During 2021 and 2022, we will be tagging mature female blue crabs in the vicinity of the barrier islands bordering Mississippi Sound. 
August 15, 2020: We ended up with over 19,500 crabs tagged, and we still have recapture reports coming in over a year after tagging ended. Data analysis is underway.
September 5, 2019: After tagging over 19,000 crabs across the Gulf of Mexico, we have concluded our tagging efforts. In the coming months, we will continue collecting recapture data and will begin data analyses.
August 8, 2018: We just hit 17,000 crabs tagged across the Gulf!
July 31, 2018: We're busy with another summer tagging season, and have now tagged over 16,000 crabs. We'll be tagging more through the end of 2018.
January 10, 2018: After a busy fall tagging season, we're now up to 13,500 crabs tagged across the Gulf of Mexico.
June 28, 2017: We've now tagged over 10,000 crabs and have received reports of over 2,000 recaptures. Keep watching for tagged crabs, and please call us if you catch one!
April 20, 2017: We've now tagged over 8,000 crabs! Crabs have been tagged as far southwest as Lower Laguna Madre, TX and as far east as Steinhatchee, FL.
January 30, 2017: We've now moved from our www.nicholls.edu/blue-crabs site to blue crab.usm.edu. Although tagging has slowed for the winter, we've now tagged over 6,000 crabs and expect things to pick up again soon!
October 31, 2016: After a busy summer and the first few weeks of fall, we've now tagged over 5,000 crabs! Also, we have moved from Nicholls State University to the Gulf Coast Research Lab, a campus of the University of Southern Mississippi. Expect website modifications in the coming weeks as we move to USM servers.
---
Frequently Asked Questions:
Q: Where are crabs being tagged?
A: We are tagging crabs throughout all five Gulf Coast states, both within the estuaries and offshore.
Q: Who is doing the tagging?
A: The project is being led by Dr. Zack Darnell's lab (The Craboratory) at the University of Southern Mississippi, based at the Gulf Coast Research Lab, but we are working closely with commercial crabbers and state management agencies across the Gulf. For more information on our other research, please visit http://TheCraboratory.org.
Q: Won't the crabs lose the tags when they molt?
A: We are only tagging mature female blue crabs. Female blue crabs molt many times through their life, but once mature they stop molting. By only tagging mature females, we are ensuring that we are only tagging crabs that will not molt.
Q: What information do I need to report if I catch a tagged crab?
A: Please record the tag number (B00001 on the crab shown above), the date you caught it, the location where it was caught (GPS if possible, or a descriptive location with the nearest landmarks), and whether or not the crab was carrying eggs (also called a sponge). If it is carrying eggs, please record whether the eggs were orange, brown, or black. This information tells us the developmental stage of the eggs.
Q: What should I do with the crab after I report it?
A: Once you report the information, you can either remove the tag and harvest the crab as you usually would or release the crab with the tag still attached at the same location where you caught it.
---
Funding for blue crab tagging research was provided by the Mississippi-Alabama Sea Grant, the National Oceanic and Atmospheric Administration, and Louisiana Sea Grant.